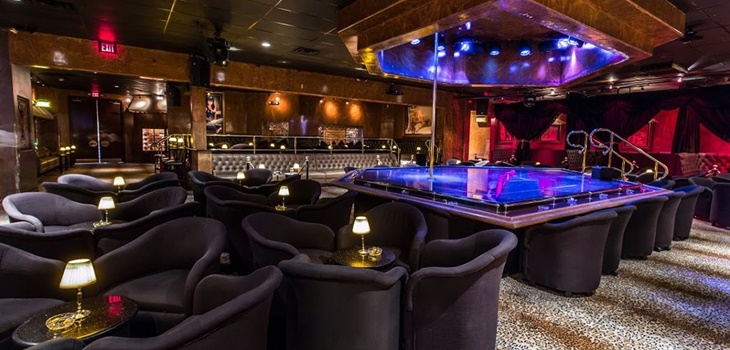 Spearmint Rhino Gentlemen's Club has remained one of the leading adult entertainment clubs since opening in 1989. Their Las Vegas location features some of the hottest strippers in the business, as well as superb round-the- clock service. Spearmint is open 24 hours a day, seven days a week for patrons ages 21 and older. If you're looking for the perfect establishment to host a bachelor party, guy's night out, or other celebration, you'll find a full range of party-perfect services to meet your needs. In addition to bottle packages, gain access to VIP services like limo transportation.
A Look at Spearmint Rhino
Spearmint Rhino Las Vegas is not your run-of- the-mill strip club. The club is a popular Las Vegas destination with one of the highest levels of customer satisfaction in the city. It has been voted the 'Best Gentlemen's Club', as well as the 'Best Bachelor Party' by the Las Vegas Review Journal in recent years and continues to provide customers with the gold standard. Spearmint Rhino has recently undergone a major expansion and now spans more than 37,000 square feet. The bars are always fully stocked and there are always beautiful dancers in every direction you look.
Like all strip clubs in Las Vegas that serve alcohol, Spearmint Rhino is topless only. If you're looking to get up close and personal with a dancer, the club also offers lap to receive a private table for your group. When you arrive, be sure that you meet the strict dress code. Sleeveless shirts, white t-shirts, open toe shoes, hats, bandannas, do- rags, baggie pants, jerseys, sweats, beanies, and similar items are not permitted.
Spearmint Rhino Limo Service
A night on the town in Las Vegas typically isn't complete with reliable transportation. Most locals and tourists rely on limo transportation when hitting up clubs like Spearmint Rhino. Limos can accommodate groups of all sizes, from just a few of your closest friends to massive bachelor parties with a dozen or more guys. The last thing you want to do when celebrating is to wait for a taxi or drive multiple vehicles. A luxury limousine is definitely the way to go when frequenting the local strip clubs, dance clubs, and bars.
Remember, a limo isn't just a mode of transportation. It's essentially a party on wheels. Las Vegas limos contain a variety of features that you wouldn't find in an ordinary vehicle, such as flat screen televisions, state-of- the-art music systems, and club-style lighting. Of course, you'll also have access to your own private chauffeur. There's no need for a designated driver when you have an experienced limo driver at your service.You also don't have to worry about finding a place to park or dealing with traffic. Just sit in the back of the limo and relax as you're safely transported to the strip club.
The Spearmint Rhino Gentlemen's Club offers the ultimate Las Vegas experience all under one roof. Drinks, dancing, and beautiful women – you'll find it all in the massive strip club. As Las Vegas is constantly bustling with people, make sure that you're prepared for your visit. Secure your transportation ahead of time if possible. Limo transportation is the best option if you're traveling with friends or a large group of people. With a luxury limo available to get you where you need to be, you can enjoy a stress-free night without the worries of how you'll get home at the end of the night.
VIP Limo Packages
Searching Availability...