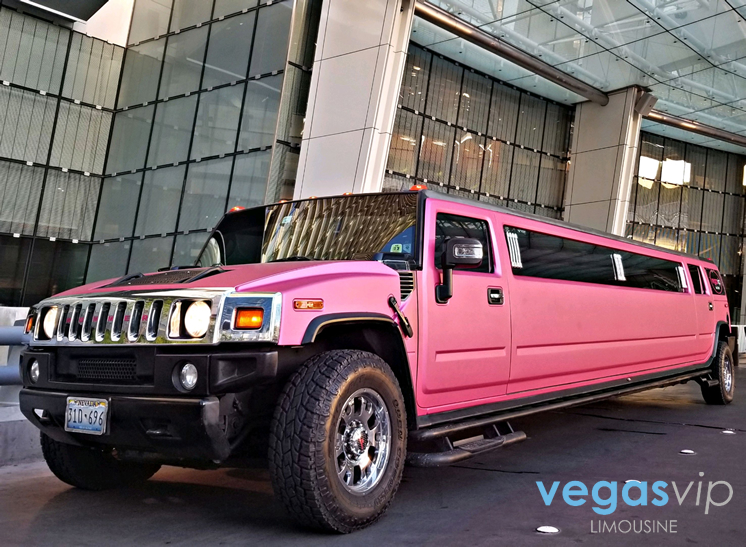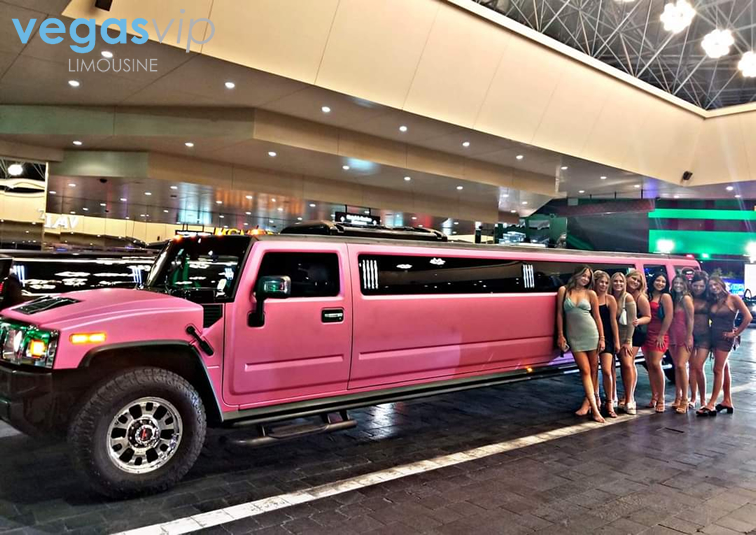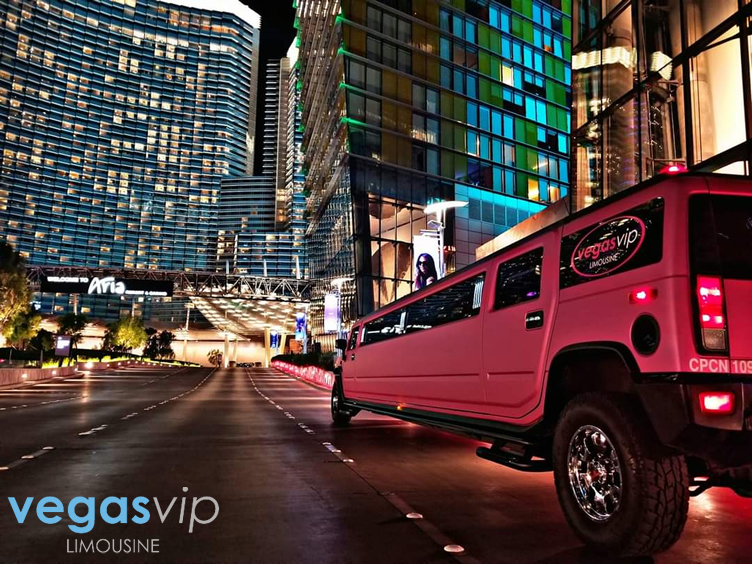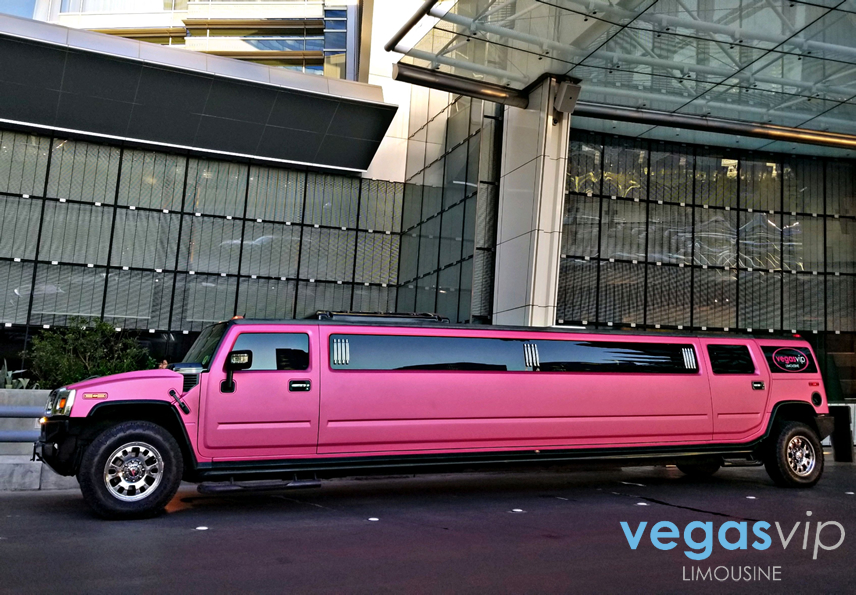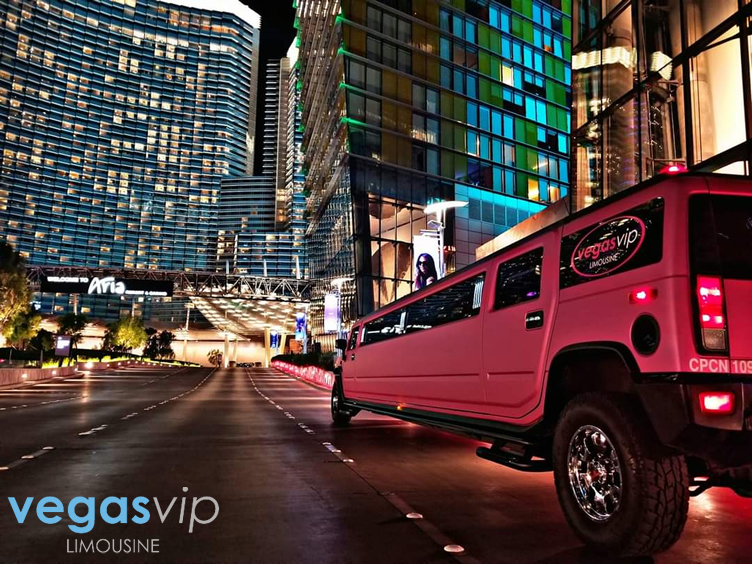 Amenities
- Luggage Capacity: 2
- Leather Wrap around seatings
-Dynamic AM-FM CD Sound System
-16 PAX Capacity
-2 x 15" LCD TVs
-Bottoms of seats with fiber piping, Disco Light, Laser Light, Strobe Light
-DVD, VCR, XM Radio, MP3 Connectivity
-Mini Bar
Las Vegas Limo for Super Large Groups
The stage is set. You've got your favorite set of girls primped up and ready for a night on the town; you've got your tickets to the Rio's Chippendales show; and you're donning your "bachelorette" crown and pin. While all of these things leave you with no doubt that you're set for your night out on the town, you also know that if not for one final accent on the evening, the evening wouldn't be complete. Everybody takes transportation for granted, that is until they want to party in the back of a stretch limousine; enjoying the comfort of plush furniture and the VIP treatment. That's why you knew to book yourself the Pink Hummer Limo as your transport for the evening. On top of providing travel for a well rounded girl's night out, the Pink Hummer Limo leaves you with plenty of comfortable space and that classy feeling that a taxi cab can't touch.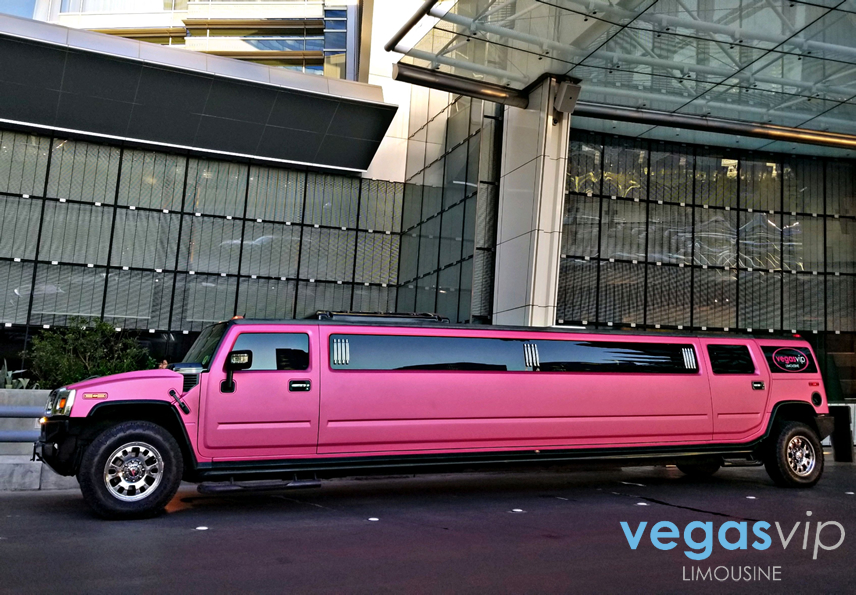 When you finally step inside your elongated pink vehicle, you may wonder if you're in the midst of a Criss Angel illusion. While the outside looks like nothing more than a hot pink hummer stretched to near three times its size, the interior gives you the feeling that you've stepped inside your own private nightclub. Lining the floor, ceiling, and walls of this premier vehicle are rows of fiber optic lighting that lend to a club-like atmosphere. It also helps that your vehicle is equipped with a high grade surround sound system that's set to blast out your favorite tunes. To ensure the most pleasurable experience, you'll be able to hook-up your personal MP3 player or bring along your favorite CD to avoid having to listen to a commercial-ridden radio broadcast. Making the experience even more high-end are LCD TVs scattered that provide the perfect opportunity for an embarrassing slideshow or a movie to set the mood for the evening.
That's just the tip of the iceberg, though, as the Pink Hummer Limousine keeps providing a one-of-a-kind experience with an on-board mini-bar filled with bottles of water and cans of soda. Upon request – or at the driver's behest – you can also find yourself with access to carafes of liquors and a bottle or two of champagne. You will also be able to party in a completely private environment with tinted windows and a privacy screen controlled through a touch-screen LCD panel.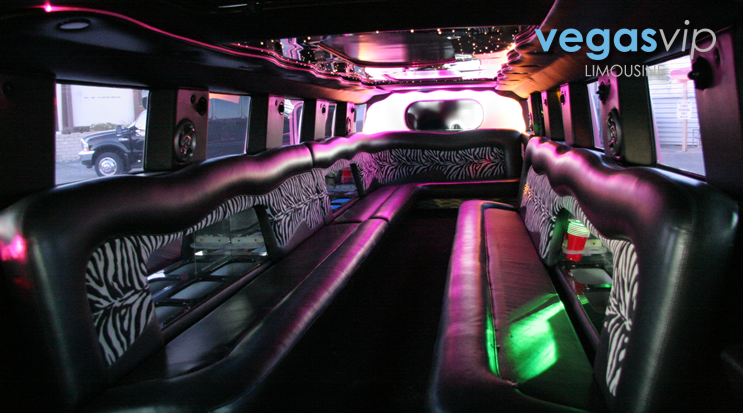 With up to 19 of your closest friends and family by your side (20 passengers total), you should have no problem enjoying everything that the Pink Hummer limousine has to offer. Providing a mix of the comfort and class of a limousine with the eccentric look and feel of a nightclub, the Pink Hummer limo is the perfect addition to any girl's night out. For packaged deals that include tickets to the Chippendales male revue and VIP seating at clubs like Chateau and Marquee, call one of Vegas VIP Transportation's attentive representatives for details.