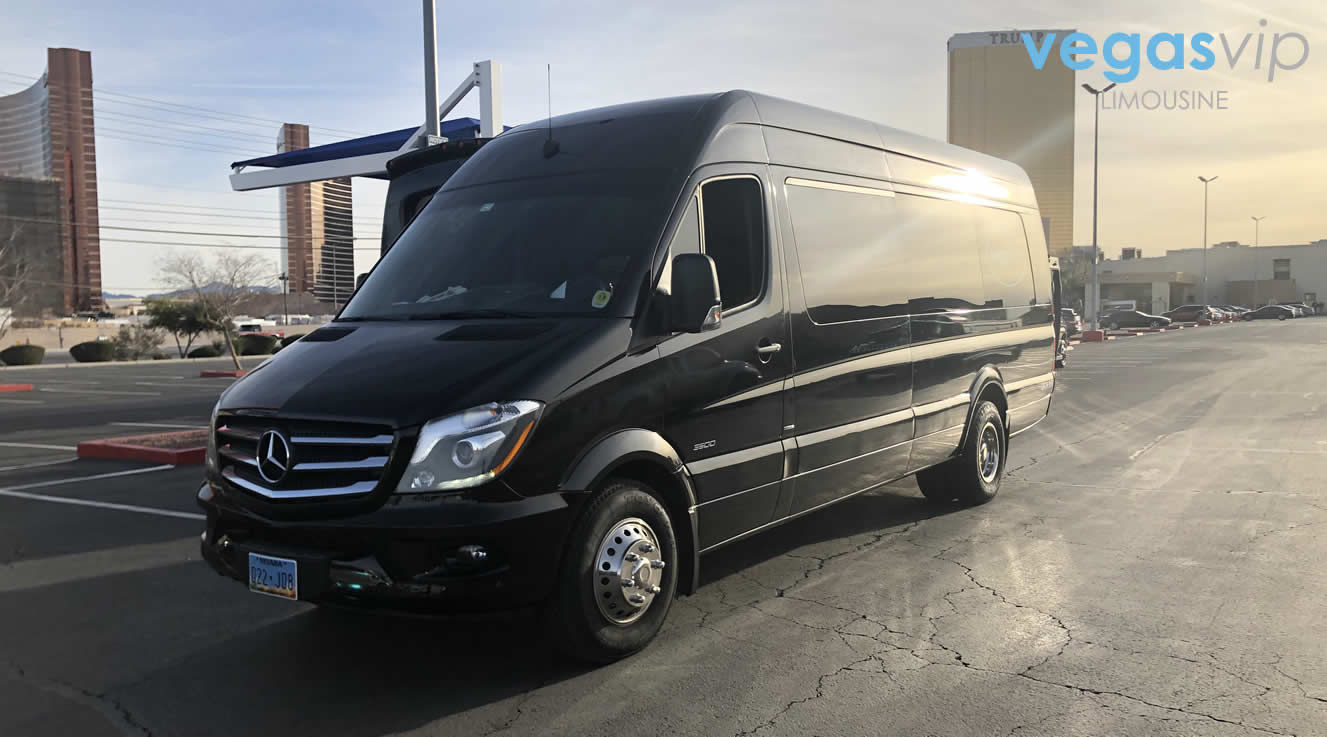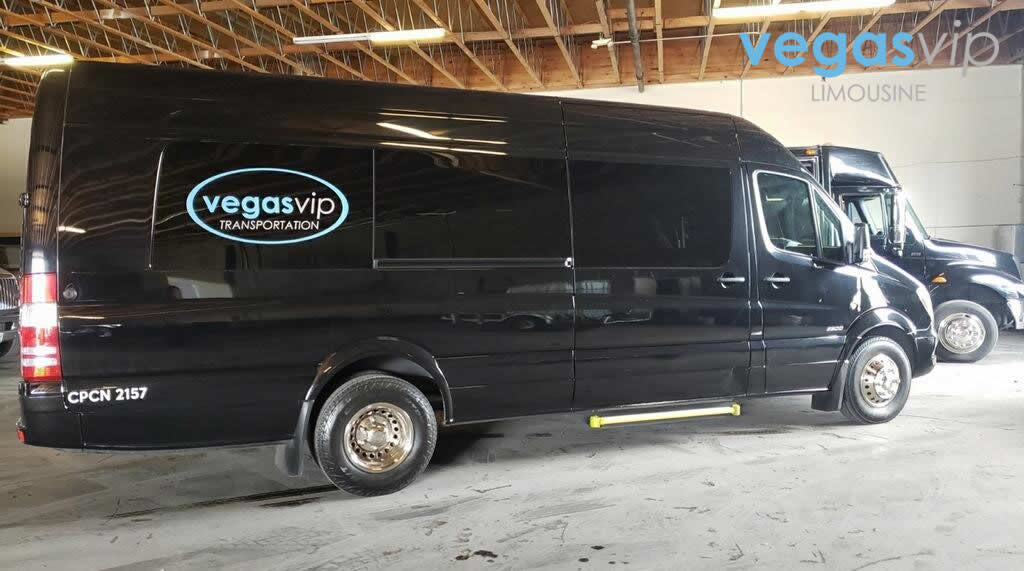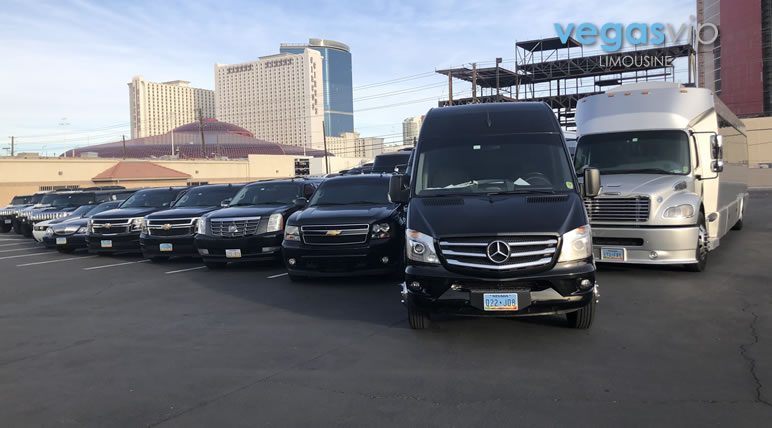 Amenities
-Luggage Capacity: 2
-a CD/DVD player
-iPod device
-lighted interior wall panels
-extra-large windows
-a privacy partition
-passenger controls
-Up to 14 Passenger
-Leather plush seating
-Up to 2 luggage space
Mercedes Sprinter Transportation
The Mercedes Sprinter Party Limo is the ultimate combination of a luxury limo and modern bus. Offering a comfortable, lavish ride, the sophisticated limo is the perfect way to get from point A to point B in style. Hosting a bachelor party? Or maybe a guy's night out with a few of your closest friends? Then you want a vehicle that can easily accommodate all of your guests without sacrificing on amenities. The Mercedes Sprinter has everything you need for a relaxing night on the town, including the ability to seat up to 14 passengers.
If your group is too large for a traditional limousine but not large enough to warrant a bus, then the Mercedes Sprinter may be the best option for you. The striking vehicle offers the best of both worlds, making it an excellent mode of transportation for small groups, executives, and VIPs. While the Mercedes Sprinter may seem like your average passenger van on the outside with its sleek black panels and oversized windows, it's anything but on the inside. What you can't see from the outside due to the tinted windows is the club-like ambiance that spans the interior.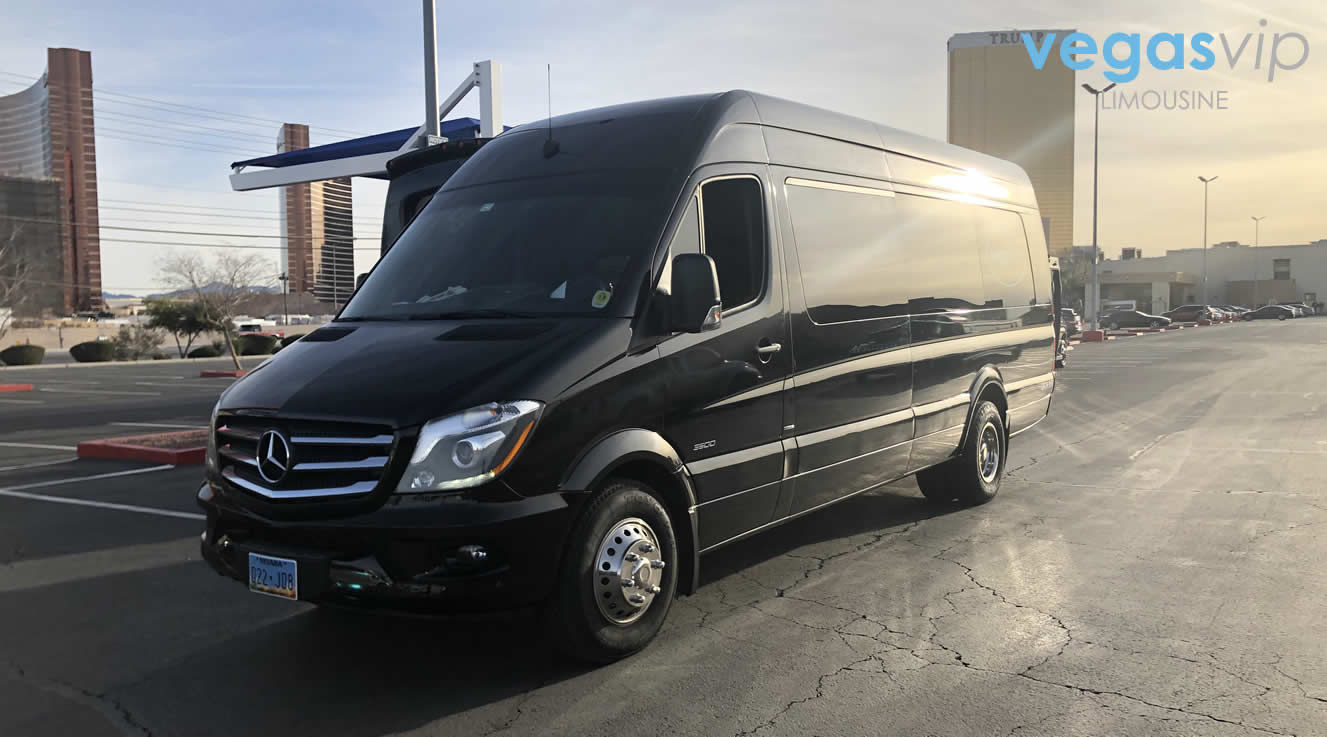 Inside the vehicle you'll discover a spacious interior decked out in modern lighting and design. Want to watch the game without having to share space with dozens of others at a local bar or lounge? Then sit back and relax in the limo and keep your eyes glued to one of two flat screen TVs. Sound is no issue, as the vehicle is also equipped with three 12-inch subwoofers that make it easy to hear every detail. If you prefer listening to music as you're transported to your destination, the Mercedes Sprinter also contains a CD/DVD player, as well as a hookup for your iPod device.
That's not all you'll find in the limo. The interior is also equipped with lighted interior wall panels which help set the mood. In addition, you'll discover a privacy partition that allows your group to converse in complete privacy, and passenger controls that gives you the option to control the various amenities previously mentioned. Leather plush seating is plentiful, allowing everyone in your group the opportunity to lounge in comfort. The extra-large windows on both sides of the vehicles are perfect for sight-seeing.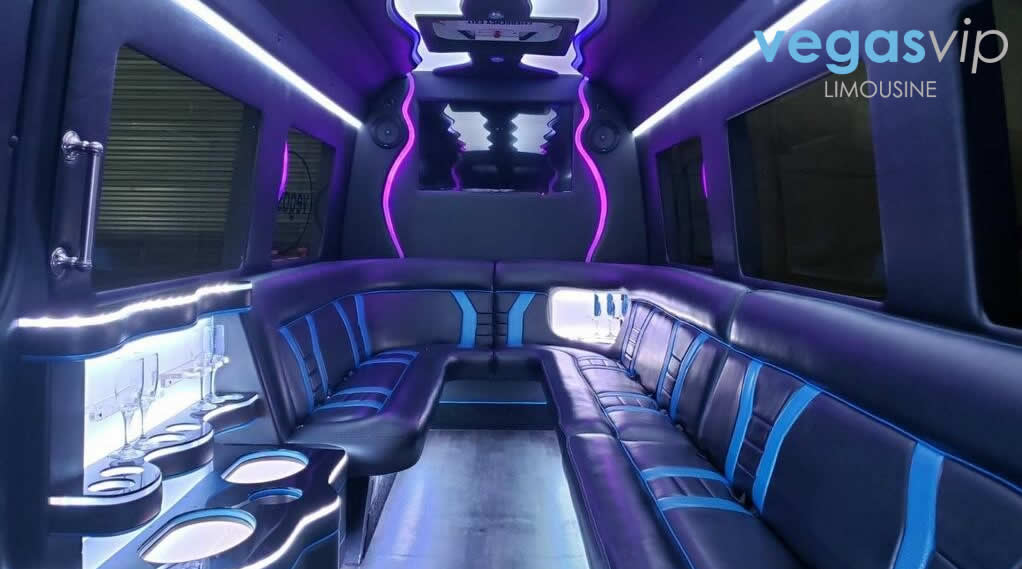 There are multiple perks to reserving the Mercedes Sprinter Limo for your next event, celebration, or night out on the town. In addition to the chance to enjoy state-of-the-art comfort and premium amenities, the sprinter comes equipped with friendly and accommodating services. Along with your hired vehicle, you'll receive an experienced chauffeur who knows the area well and can get you to your destination in record time. As soon as you arrive, you can have your reserved vehicle at the airport, ready to pick you up and bring you to your hotel. The driver can also pick you up later on.
Dedicated chauffeur services are available day and night, allowing you to schedule a full day's worth of activities without interruption. Maybe you just need transportation for you and your guests for a short period of time. The Mercedes Sprinter Limo can be reserved for as little as two hours. When you're traveling with a group, finding a vehicle that is large enough to accommodate everyone can be tough. However, the Mercedes Sprinter Limo fits the bill. It's also a stylish, affordable, and fun way to get around and can be used for nearly any occasion.