Stretch Limo
The comfort and style. Fits up to 6 people.
Get a Quote Now
Capacity
Up to 6 passenger
Amenities

Leather Wrap around seatings
Soft Ambient Lighting
Mini Bar
About
Whether your cruising across town for some romantic evening or are participating in a rather milestone event like a 21st birthday party or bachelor / bachelorette party, you're not going to want to hinge your night on the availability of transportation. You and your guests are going to want to get your drink on, and really, how fair is it to have to designate a sober driver? Taxi cabs only end up splitting your group up and, typically, will cost more than what's needed. So, that leaves one rather favorable option that will put you and your guests in a class all of your own.
The comfort and style brought to you and your group by a stretch limousine is something that simply cannot be matched. Plush leather seating, soft ambient lighting, and a small ice box stocked with ice cold waters and cans of name brand soft drinks are just the tip of the ice berg of why it's a necessity to drive around in the cab of one of these classic vehicles. When you're planning any sort of event that requires group transportation, you'll want to put your trust in the reliability of a limousine service. Have yourself carted all over town as your own private driver treats you like the VIP guests that you are.
The interior of the vehicle is unlike any other you've been in. There is no stuffy seating and no child-safe widows; you won't be forced to listen to whatever entertainment the driver decides to put on; you'll be in complete control of most aspects of your drive. From the color and steadiness of the fiber optic lights that line both the ceiling and floor of the limousine to the type and volume of the music you listen to. Set in the back of your ride is a small LED touch screen with options that control the music, air flow, and lighting.
You'll have the option to create your own musical experience with the use of the on-board CD / DVD player and compatible MP3 port. No matter your tastes in music, you'll be in charge of what comes flowing out of the surround sound system. Create a club like atmosphere with some Top 40 and some flashy lighting or go for a more mellowed ride with softer tunes and steady lighting – no matter what, you're in control. Set the tone for the evening with a good mix of tunes and you'll ensure that your party has the right energy for whatever they are in store for.
Limousines are popular for events like Proms and Weddings, but there's nothing out there saying you can spring for one for your own special occasion. Between bachelor / bachelorette parties, birthday parties, romantic dinners, and divorce parties, the need for a classy vehicle is quite abundant. No matter the event, you deserve to be in the comfort of a stretch limousine, drinks in hand, and music setting the tone for the evening.
Stretch Limo Package Deals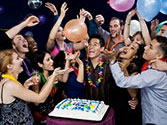 Limo Clubber
Package
Stretch Limo Transfer to Palms
Friday or Saturday Night
Express Entry incldes Cover Charge
Ghostbar, Rain, Moon
Book or Inquire Now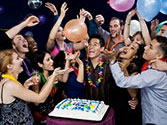 Mobile Nightclub
Package
4 Hours Stretch Limo Charter
VIP Entry to Nightclub
VIP Entry to Strip Club
All inclusive
Book or Inquire Now